Children, Youth, Family, and Transitional Age Youth
About CYFTAY
The Children, Youth, Family and Transitional Age Youth (CYFTAY) Division is one of the social services components of Family Service Agency of San Francisco. Felton's Children, Youth, Family and TAY Division provides comprehensive early care and education, inclusion and early intervention services for children birth to six years old, including children with special needs. It also provides outpatient behavioral/ mental health and case management services to children and youth 4-21 years old and their families. Lastly, it also provides comprehensive case management, educational/ vocational, health, nutritional and parenting education services to pregnant and parenting teens up to the age of 24 years old. We strive to provide high quality services that meet the highest standards of care and have the greatest impact on the lives of those being served.
Mission
Our mission is to provide access to comprehensive services to low-income at-risk children, youth, families, and transitional age youth to give them a sound foundation for lifelong development, family economic success and hope for a successful future.
Approach
Offering comprehensive, culturally relevant, linguistically appropriate, trauma informed, strength and evidence based services.
Strategies
Equity and Social Justice Lens
Individualized
Inclusive
Evidence-Based
Recovery Oriented
Trauma Informed
Community Based
Comprehensive
Family-Centered
Family Strength-Based
Multidisciplinary
Two Generational Approach
Intergenerational Approach
What role does Felton's CYFTAY Division play in helping young children, youth, families and transitional age youth?
Felton's CYF aims to assist families who are impacted by poverty, violence and other forms of trauma to improve their well being and quality of life, and increase evidence of protective factors for children and families being served. We are working to increase public awareness about the day-to-day issues faced by low income families in San Francisco.
For general inquiries regarding Children, Youth, Family and TAY Services, please contact:
Yohana I. Quiróz, Ed.D.
Chief Operations Officer, Felton Institute
Division Director, Children, Youth, Family and Transitional Age Youth Services
Main: (415) 474-7310 x 101 | Fax: (415) 648-1098 | Email:yquiroz@felton.org
East Bay Office: 1005 Atlantic Avenue Alameda CA 94501
San Francisco Office: 2730 Bryant Street, 1st Floor San Francisco CA 94110
---
Clinical Services
Full Circle Family Program (FCFP)
Outpatient mental health services for low-income, uninsured children and their families.
---
Childcare Services
Early Care & Education Programs (ECE)
Felton's ECE provides responsive developmental early care and education services in an equitable, nurturing, challenging and inclusive environment that addresses the medical, social and educational needs of the child and family, thereby helping them develop a solid foundation for lifelong development, family economic success and hope for a successful future.

---
Felton Early Autism Program (FEAP)
Felton Early Autism Program (FEAP) brings together an evidence-based intervention model, specifically designed for children on the autism spectrum, and the child's natural learning environment.

---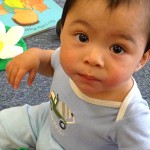 Infant Development/Early Intervention Program (GGRC)
On-site developmental assessments and early intervention services for infants with special needs.
---
Medically Fragile Infant/Toddler/Preschool Program (MOLERA)
Childcare services for medically-fragile infants and children.
---
Parenting and Family Services
Felton's Sunshine Community Center (SCC)
Workshops for low-income, at-risk parents on parenting, childhood development and other fundamental child-rearing skills.
---
Teenage Pregnancy and Parenting Program (TAPP)
Comprehensive case management for expectant and parenting teens up to 19 years old.
---
Young Family Resource Center (YFRC)
Peer-to-Peer service focused on teen and young adult parents and their families.
---
Health and Nutrition Services
Child Care Food Program (CACFP)
A food program providing on-site nutritious meals to children operating within Felton's Early Care and Education Programs.
---
Healthy Families, Healthy Lives "Familias Sanas, Vidas Sanas" Wellness Program
On-site farmer's market offering client families fresh foods, cooking classes and exercise programs.
---
Teen Resources to Achieve Positive Practices (T-RAPP)
Teen-parent peer support providing pregnancy prevention and at-risk education services.
---
Vocational Services
Realizing Employment and Creating Hope (REACH)
Employment training and case management services for pregnant and parenting at-risk teens.
---