FDC's Infant Development/Early Intervention Program (GGRC)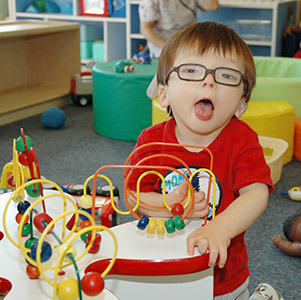 Family Developmental Center (FDC) also offers an infant development program and early intervention services for infants and toddlers, from birth to three years old. The Infant Development program provides developmental assessments and other interventions designed to enhance the developmental progress of toddlers with special needs in all areas of their growth and development, including speech and language, play groups and 1:1 interactions. Intervention plans focus on the individual needs and strengths of the child with emphasis in integrative classroom environments with their peers.
Children attend childcare approximately 65 hours or ten (10) days a month. Each child is assigned to one of eight classrooms with similarly developing children.
Eligible children, from birth to 3 years of age, are referred from the Golden Gate Regional Center (GGRC)'s Clinical Team. GGRC evaluates children and has a team of social workers, physicians, and psychologists specialized in childhood developmental delays and disabilities. Eligible children are then referred to the FDC.
For more information about eligibility or to apply, please contact Golden Gate Regional Center at 415.546.9222
Contact Information:
FDC Infant Development/Early Intervention Program (GGRC)
2730 Bryant Street, 1st Floor
San Francisco, CA 94110
Main: 415.282.1090
Fax: 415.282.1735
Lisa Aguilar, Administration Director
Ph: 415.282.1090 ext. 119
laguilar@felton.org
For inquiries, please contact:
Plern Pratoommas, Early Intervention and Inclusion Director
Ph: 415.282.1090 ext. 104
ppratommas@felton.org
Maribel Serrano, Early Intervention Supervisor
Ph: 415.282.1090 ext. 122
mserrano@felton.org